Surrey based
Foot Health Practitioner…
07480 067649
ginaelitefeet@yahoo.com
So, a little more about me and why I do what I do
Hi, I'm Gina and I trained with the SMAE institute in Berkshire as an FHP (foot health practitioner) in the summer of 2017.  Prior to that I was working in the care industry as a domiciliary health care assistant which I loved and am still involved in. However, I wanted to retrain in something more specific…This is where the feet come in! 
I noticed that a lot of people, often the elderly, were neglecting their feet which can have serious health implications. Especially those with existing issues such as compromised immune systems, diabetes and heart troubles. Having been a business owner prior to my care role, I wanted the flexibility of working for myself while really making a difference to people's health. So I retrained and found that although feet don't always have the best reputation, it's a fascinating and complicated part of the body that gives us important clues about our over all health!
By travelling to my clients, I offer all treatments in the comfort of their own homes. Therefore my clients feel more at ease, less embarrassed and don't have the pressure of time limited appointments that they may face in a clinic. (My average appointment times are 45 mins but are not restricted, it all depends on the individuals needs).
I meet such so many interesting people in my job and have built rewarding and fun relationships with a wide variety of people. I've helped people with long standing foot issues finally put their pain/embarrassment to bed and I look forward to helping plenty more over the years.
Some of the most painful foot problems are often very easily treated. Things like corns, hard skin, ingrown nails and athletes foot can be resolved without pain: and advice will always be given on how to look after your feet at home so these problems are more manageable.
Anything that I can't help with, will be referred on to the correct health care provider. 
Please feel free to contact me and ask any questions with no obligation!
Gina 
x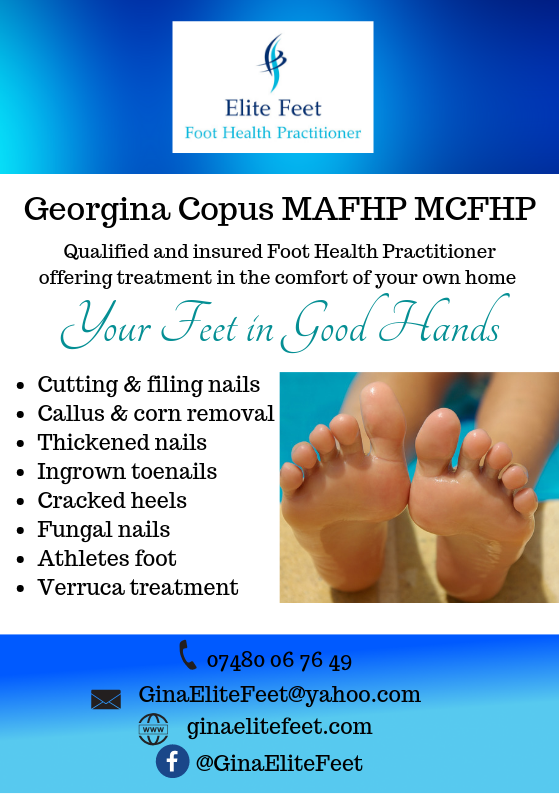 "An absolutely brilliant service. Lovely lady with a friendly and happy face throughout. Highly recommend".   5* from Danielle
"I highly recommend Gina for your common foot ailments. She will instantly relax you and put you at ease, and will make sure you are comfortable throughout your treatment". 5* from Kerry